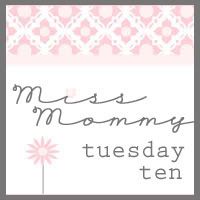 linking up at miss mommy :)
and copying her theme with 10 things I'm looking forward too!!
1. HALLOWEEN!!! i can't wait to take my boys trick or treating - especially kullen! now that he is older - he will 'get it' and seeing his reaction to that first house giving him candy is going to be great! plus his buzz lightyear costume is SO cute!!!
2. putting my Christmas tree up! haha!! I know I have a while to go but I am really lookin forward to having the big daddy up [and my nutcrackers coming out!!]
3. Houseparty events! I have two in November - the shutterfly photobooks party that I was selected to host and the shutterfly Christmas card one that my friend jessi is hosting!! double the shutterfly freebies!!
4. Shopping!!! not that I have tons d money but whatev! My friend Ashley is hosting a party at her house in a few weeks that will have tastefully simple, scentsy, 31, pampered chef and a few others! Talk about everything at once - my kinda party!!!
5. hot yoga on thursday[haha ok maybe not ...] my friend kath talked me into going with her on thurs night! it's essentially yoga but in 100+degree heat! pray for me!
6. seeing my sister.
don't know when it will be - but until it does, I'll be looking forward to it.
7. rhys growing :) I can't wait to interact more with him and get to know his little self more!
8. apple picking - one of these days anyway! ;) im hoping this weekend or the next we can get to a local farm and pick some apples!!!
9. a massage!!!
my wonderful friend katie gave me a massage gift certificate after I had rhys and I haven't redeemed it yet! My plan is to do so this weekend - maybe Friday after hot yoga - I'm sure I'll be sore!! ;)
10. CAPS GAMES!!!!
it's hockey season - finalllllly! I am looking forward to take both my boys but really looking forward to taking kullen this year[starting to get repetitive?! i can't help it, he's at such a fun age!!] - he loves hockey!!!!!
HAPPY TUESDAY!