i'm still a rockstarrr ;)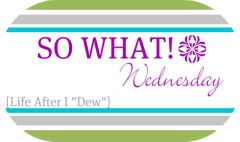 welcome to this weeks edition of 'so what wednesday' - linking up over at life after i dew!
[and i'm finally on an actual computer so i can link up and get the graphic properly!]
SO WHAT!:
-i have been on maternity leave for almost six weeks and my house is possibly dirtier/messier than ever. you'd think being home all the time, i would have this place lookin' good. HA!
-rhys has baby acne. [this one is for myself!] every baby gets it right? and regardless of it driving me NUTSO - he is still ridiculously cute!
-i have 'jelly' belly. yup, so what. i'll get around to tightening it up one day.
-i have over 900$ of camera equipment and never remember to bring my camera. OR if i remember to bring it, i don't remember to take it out of my bag and take a darn picture. thank GOD for iphones [or cell phone camera's in general, i just look for any opportunity to 'iphone' drop!]
-i haven't crocheted anything since the craft fair. i lost a little of my 'ambition' i guess you could say. maybe it's not having something to crochet FOR - although, that isn't true considering i had a friend ask me to make her five hats and another friend mentioned wanting some coffee mug cozy's for stocking stuffers! guess i really should get busy. meanwhile, i'll keep pinning away on pinterest of wonderful ideas that i'd LOVE to do.
-i didn't wait six weeks. ;)
-i'm currently watching 'it's always sunny', typing this blog, rocking rhys in his 'rock n play' [with my foot] and watching/listening to kullen run around the living room [nakie] playing with his toys. he reminds me of andy from toy story with his crazy imagination! ;)
-i often refer to kullen as 'nunny' because that is how he pronounces his name. adam has told me multiple times that i shouldn't do it because he's going to think that's really his name - but i can't help it. it just slips right out!
-if i'm already thinking how i want to call out of work on my first day back next tuesday. six weeks just isn't long enough with a baby!